Creating quality content from article generators
Most people think that article generators are purely for black hat SEO.
Although they are certainly used that way, it is possible to use article generators and stay away from black hat SEO.
It is (an unfortunate) but necessary evil that you create unique content for your websites.
Creating articles will boost your search visibility, and creating awesome content can even build you an online social presence.
Writing content for online publication differs a lot from writing purely for traditional print media.
You need to consider your first audience, "the search engine".
Writing for the search engine has a lot of tricks and optimizations. Although the golden rule is always… Your article should be of a High quality = Unique + Valuable to the readers.
Producing one or two quality articles a day is fine, but when it comes to massive quantity, you will start looking for tools to help you finish the writing task.
Go Article Generators
Everyone wants to save time and everyone needs more articles than they can ever write by themselves.
Not soon after developers came on the scene and article generators started popping up.
The idea of using article generators as automated writing tools is exciting.
However writing is about bringing out ideas and sharing them with your readers. Something no robot writer can emulate perfectly.
For now, you need to give up on the idea of complete automation. Sure, writing articles with article generators is possible, but the results are lack luster.
Go Humans
There is a better way.
It is possible to write quality articles by using article generators intelligently.
Article creators can be used as an aid to help you write, instead of relying on it to do it all by itself.
Article Generators for content research
Let article generators do all the hard work for you. They can find relevant images, videos and most importantly gather content in one central location.
Any good article generator will have some facility to display to you a list of sentences/paragraphs that you can pick and choose.
Avoid the temptation to use the "Auto generate" function. The results will always be sub optimal.
It is quite easy to write your first draft by picking and choosing from a list of pre-filtered sentences and paragraphs.
This is super helpful if you are new to the niche or running out of ideas on your topic.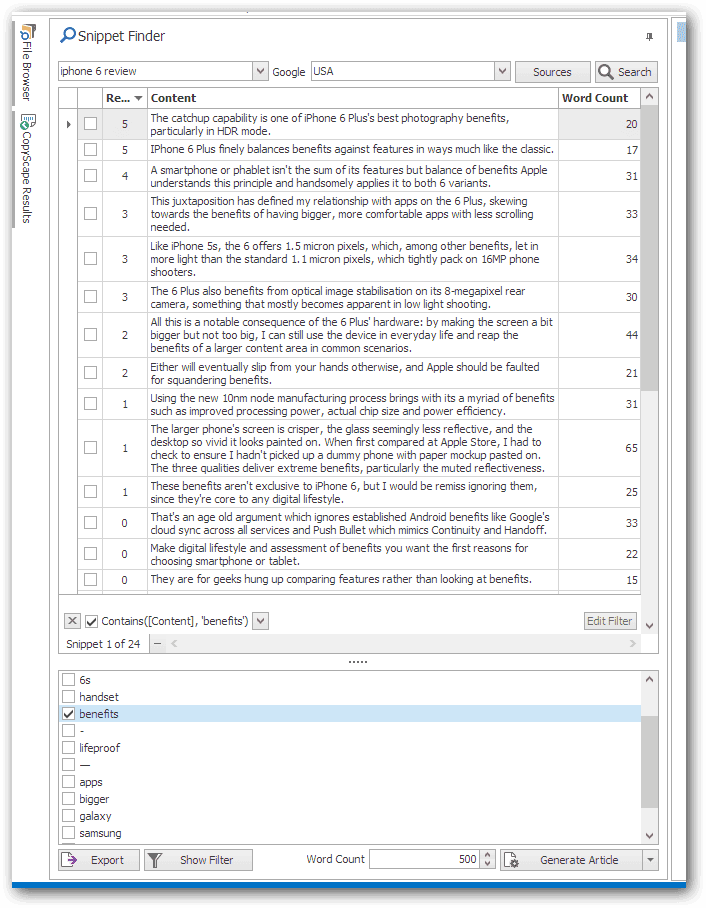 Article Generators to check for uniqueness
With the first draft written, the 2nd step is to make sure the article you have put together is unique.
This is another place where an article creator can help you.
Most all article generators have some feature that allows you to spin (ie rewrite) your content automatically.
There are lots of good capable article re-writing tools, such as WordAi and XSpinner.
If you want to check how unique your article is, Copyscape is the golden standard.
A very useful feature is having the list of Copyscape matches displayed next to your article so you know what needs to be fixed to be 100% unique.
Copyscape Integration – List of all non-unique content appears in a list on the left of your article. You just need to re-write the affected sentences and re-check to get 100% unique.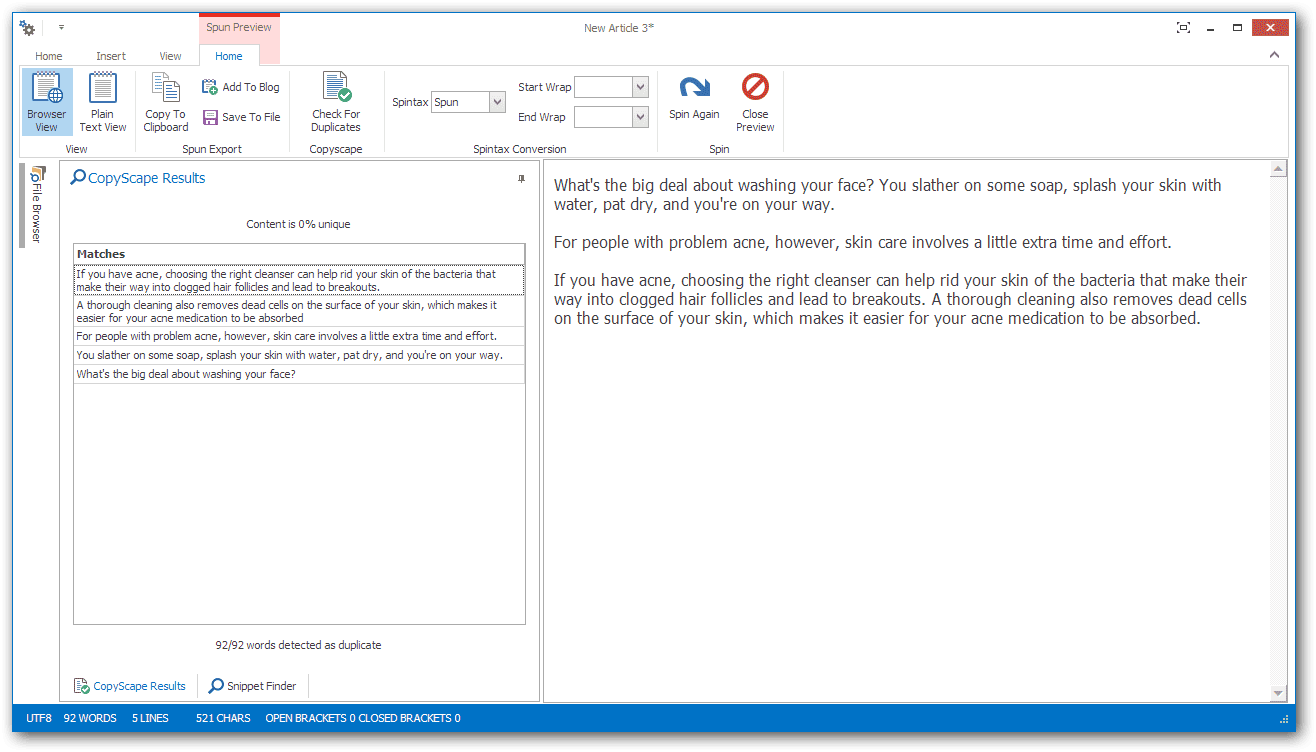 Closing thoughts
It is easier to put together high quality content, once you are properly armed with useful information.
I would never suggest using an article creator as is and accepting that the program should write you an A1 piece of content automatically.
Instead, an article creator (or any content automation tool) is most useful as a tool in your content research step.
If you already have an article, then you can use the integrated, spinners and copyscape features of your article generator to check and make sure your content is unique. All from one centralized place.
Unfortunately, the things that make spammy content into great content still require a human.
You know, the proofreading, spellchecking, reorganizing and inserting of your ideas…
Feels like you still have work to do?
Exactly. Because in writing, nothing good comes easy.
However, you can rest assured that when you produce quality articles, even Google's Panda and Penguin algos are nothing to be concerned about.
Honestly, it all it takes is about 5 minutes of Copyscape and editing to at LEAST ensure your article is 100% unique.