How handy is an article downloader?
An article downloader is a piece of software that allows you to download online content to your hard drive.
That content can be articles, blog posts or anything online really.
With an article downloader you can save hundreds if not thousands of pages of content to your hard drive.
Why use an article downloader?
Armed with a list of keywords, an article downloader allows you to quickly compile research on your target market.
You could download and save articles one by one manually, however you could opt to save lots of time and manual effort by simply getting software to work for you.
What do you do with the content?
It's up to you really, however that research is good for blogging or even re-writing as the beginning of your own articles.
Don't do this!
Don't download articles of the web, then re-post it online verbatim. This is copyright violation. You can land yourself is some serious hot water if caught AND search engines will hide or ignore your content as duplicate.
The basic workings of an article downloader
(Example images below come from the article downloader in SEO Content Machine)
Most article downloaders will give you the simple option of downloading to a text file.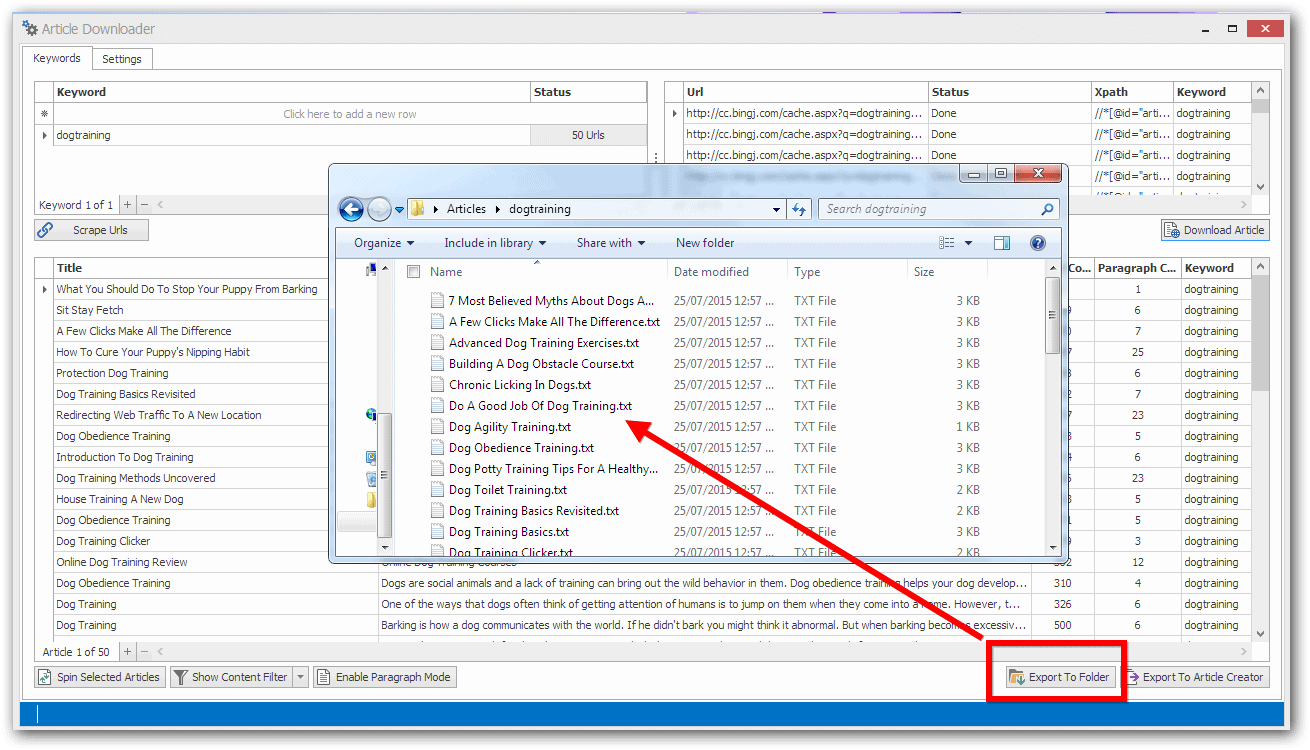 The html article is now a simple plain text article saved offline. You can opt to save it as a html file as well if you want.
You can read the content without distraction, run your own text search and view the content anytime offline.
If you need a suggestion on your next article, why not download article titles?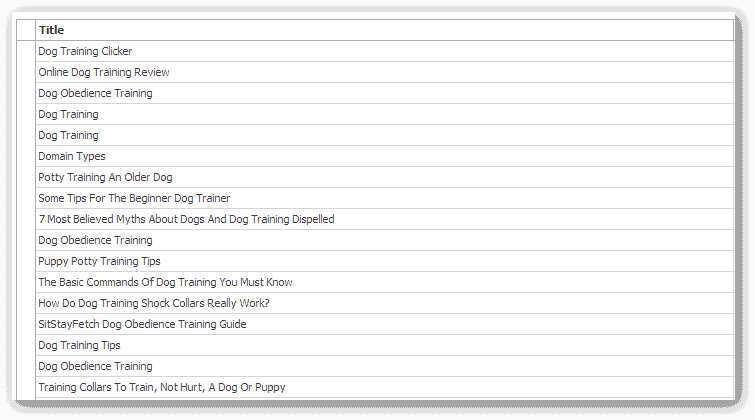 With a researched list of titles, you can choose your next article topic with ease.
You can even discover new niches and topics to write about that you never knew about.
"SitStayFetch" looks like a product, you can always find more about it and even apply to its affiliate program and get paid if someone buys that book on your recommendation.
Choosing your content sources
Garbage in Garbage out.
It is very important that you have as much control over where your article downloader is able to fetch content form.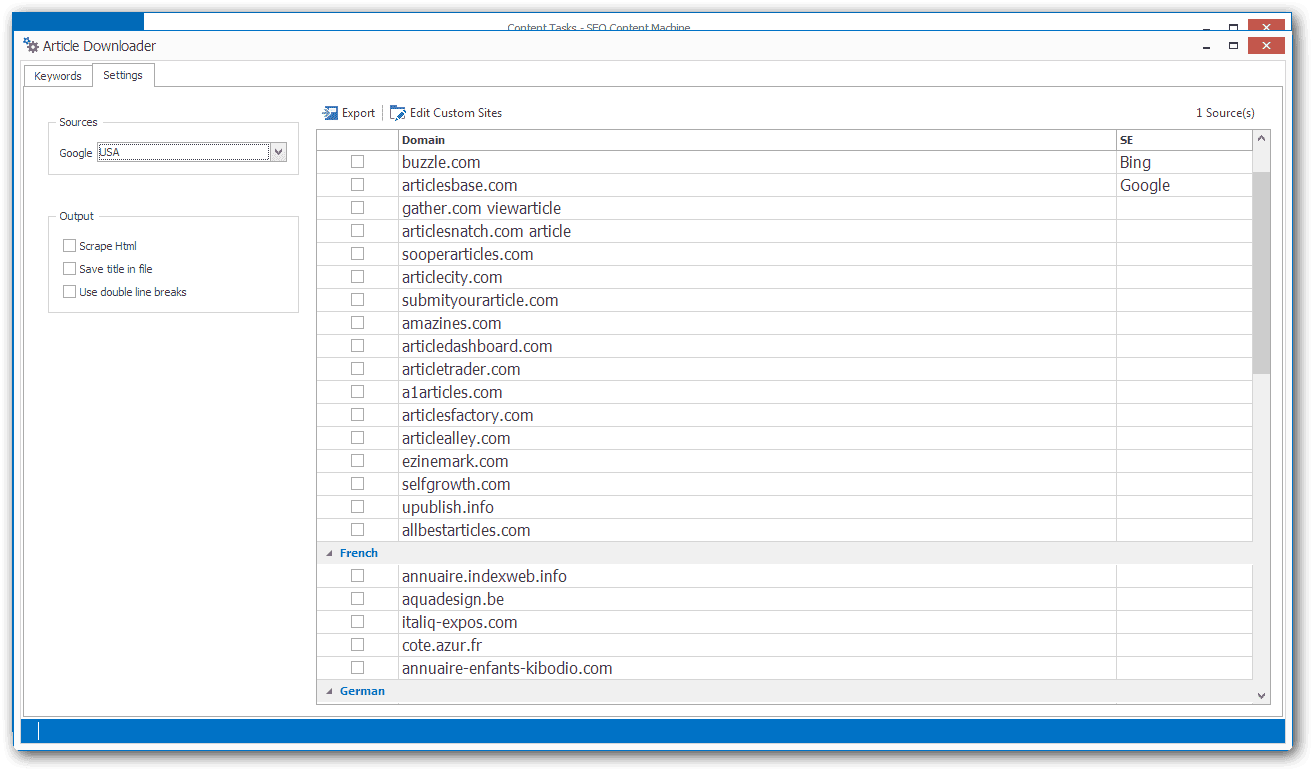 To get the most relevant content, you want to download content from sites that you know have the kind of articles that you are looking for.
If you want articles for "dog training" then its important to only search and download articles from dog training sites.
If you can't find any dog training sites with good content, your next bet is to search for the articles in various article directories.
Failing that… you can just run a general search on Google or Bing and download whatever is in their search results.
The order for finding content is this:
Niche sites
Article directories
Search engines
Incidentally, your keyword choice makes a big difference to what content sources will work best for you.
For a general niche like "dog training", "weight loss" or "acne wash". Niche sites, and article directories will give you the best results.
For a micro niche or specific keyword like "product xyz review" then using search engines will net you a lot of good content.
Don't be afraid to be selective on what content sources you choose. There is no 1 size fits all.
In SCM article downloader, you can selectively choose Google search, any article directory or even add your own niche sites for content
An article downloader can also just finds urls
All an article downloader does is download a list of urls, then visits each of those urls and saves whatever content it can find.
You can use SCM to do that job or any other respectable Url scraper such as Scrapebox.
You input the keywords and the software gathers the links. Then you can use these URLs to scrape the actual articles.
The downloaded content can go directly to your local drive.
Its about automation
When you are into massive research, a tool like an article downloader is a welcome idea that can save you a lot of time.
The Internet has online repositories and libraries of great content – academic papers, facts, scientific knowledge, news, scholarly articles, journals, blogs and more.
You can visit each site and download content by hand, but obviously its much easier to use software to do this for you. The benefit is also you get only the text (no ads, no images etc) and the content is cached locally for you.
Just a quick FYI. Most article downloaders cannot scrape content from PDFs, which are mostly present in scholarly articles.
[order_box style="4″ alignment="center"]
Want to try out a fully featured article downloader for your next research project?
SEO Content Machine is available free for 3 days, no payment details required.
[/order_box]