WordPress Posting Is Coming
I have been busy this week adding the ability for SCM to post content directly to all your WordPress blogs.
Not only that but I have also added the ability to subscribe to Google alerts and RSS feeds and automatically download new content for you to curate and post directly to your blogs.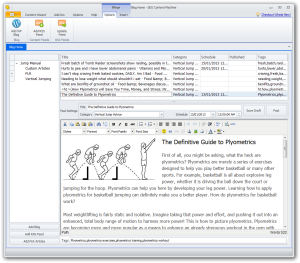 SEO Content Machine is going to turn into a total "content manager" that is content generation, research, curation and syndication tool.
The Problem With Content
SCM started its life as a simple content generator built for tools like SENukeX and the like. The output was low quality but it produced lots of it for your tier 2 links.
However its a constantly changing SEO game.
Although generating spun content has its place, with Google trying to kill IMers everyday everyone is stretching for better quality tools.
See the rise of 2nd generation spinners like WordAi, content subscriptions like ArticleBuilder etc
However, even before talking about link building my other problem has always been even getting enough content on my Money Blogs, or ideas for it.
I resorted to paying for it at one stage but the quality at $5 an article was pretty off putting.
The new features of SCM will allow bloggers like me (and you) to find content ideas for Money Blogs.
Part of the solution is curation.
Watch this space…